Current market commentary
The recovery rally at the beginning of June was short lived. There were several reasons for this. Firstly, May inflation figures in the US surprised significantly to the upside, showing that we are still away from an inflation peak. In addition, the major central banks emphasised during their June meetings that the focus is on fighting inflation and thus a tighter monetary policy is needed for a longer period of time in order to contain inflation via the demand side. A significant economic slowdown is thus becoming increasingly likely. Since at the same time more and more liquidity is being withdrawn from capital markets, almost all asset classes have fallen recently. The effect has even been exacerbated by the sharp rise in volatility, which is forcing many investors to reduce their investment positions as a result of risk management. As central banks remain restrictive for the time being and volatility is not expected to fall so quickly, we do not expect a fast V-shaped recovery, as was often the case in past crises.
Short-term outlook
After several central bank meetings in recent days, the next few weeks will be a little quieter in terms of monetary policy. Instead, geopolitical discussions will be more in focus again. On Thursday, EU leaders will meet to negotiate Ukraine's accession and on Sunday, the G7 summit will begin in Elmau (Bavaria). Existing home sales (May) are released on Tuesday and new home sales (May) in the US on Friday. This will be followed on Thursday by the Insee Business Climate Index (Jun.) for France, the preliminary PMIs for industry and services (Jun.) for the Euro-zone, the UK and the US as well as initial jobless claims in the US. On Friday, the Ifo Business Climate Index (Jun.) and next Wednesday the preliminary inflation data (Jun.) for Germany will be published. This will be followed in the next few days by inflation data (June) for France, Italy and the Eurozone.
Bear markets take hold - bonds also with massive losses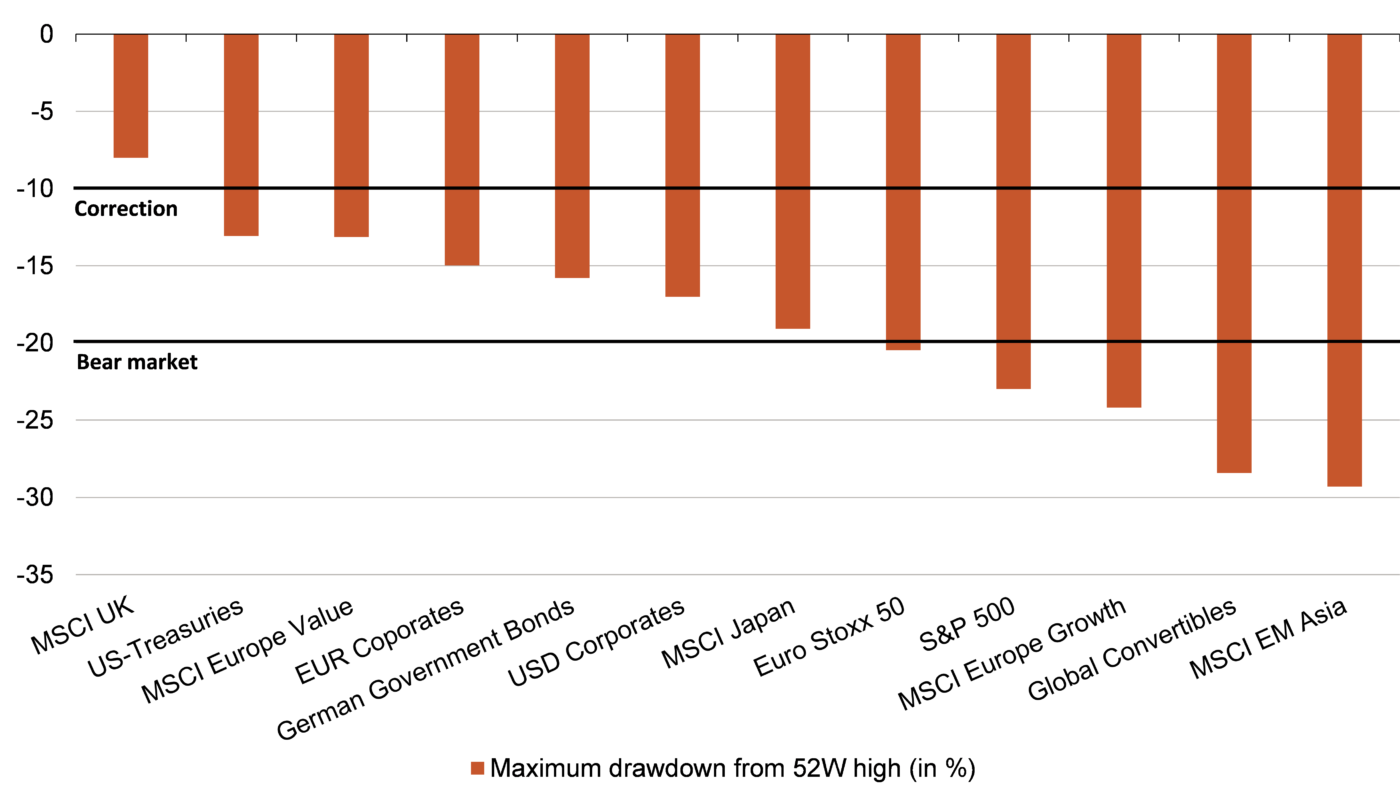 Since the beginning of the year, things have only gone downhill. First inflation and interest rate worries and now recession fears. Equities have recently even entered a bear market. However, it was not only shares that suffered in this en- vironment. Bonds and convertible bonds fell similarly.
The good news is that some of the bad news is now priced in. The downward path could continue if the news remains bad, but the drop should now be more limited.