Current market commentary
The rapid and sharp rise in US interest rates has now left its mark on the equity markets. Long duration investments, such as tech stocks, suffered disproportionately in August. The strong valuation expansion we have seen this year in the equity indices cannot be continued in this way – especially against the background that long-term interest rates have risen and thus bonds have gained in relative attractiveness. Since the sell-off in equities has so far been orderly and volatility has hardly increased, systematic strategies have so far only slightly reduced equities. However, they have continued to increase their short positioning in bonds, which has exacerbated the rise in yields. This positioning now seems vulnerable. So if interest rates fall, e.g. due to recession concerns or disinflation, systematics are likely to reinforce this trend significantly – similar to what happened in March this year when the US regional banking crisis boiled over.
Short-term outlook
After the Jackson Hole meeting last Friday, the markets are eagerly awaiting the central bank meetings in September. The ECB already meets in the middle of the month on 14 September, the US Fed and Bank of England follow on 20 and 21 September. On 4 September, the US stock markets are closed (Labour Day). In the coming weeks, all eyes will be on the August inflation data, the US labour market data and the purchasing managers' indices (PMIs). On Tuesday, US consumer confidence (Aug.) will be published. Preliminary inflation data for Germany (Aug.) as well as economic confidence for the Eurozone (Aug.), the change in non-farm employment (ADP) and Q2 GDP figures for the US will be published on Wednesday. Eurozone inflation data and PMIs (Aug.) will follow, along with China PMIs (Aug) and US personal income and spending (Jul.) on Thursday. The US labour market data (Aug.) will be published on Friday.
Equity valuations are getting a reality check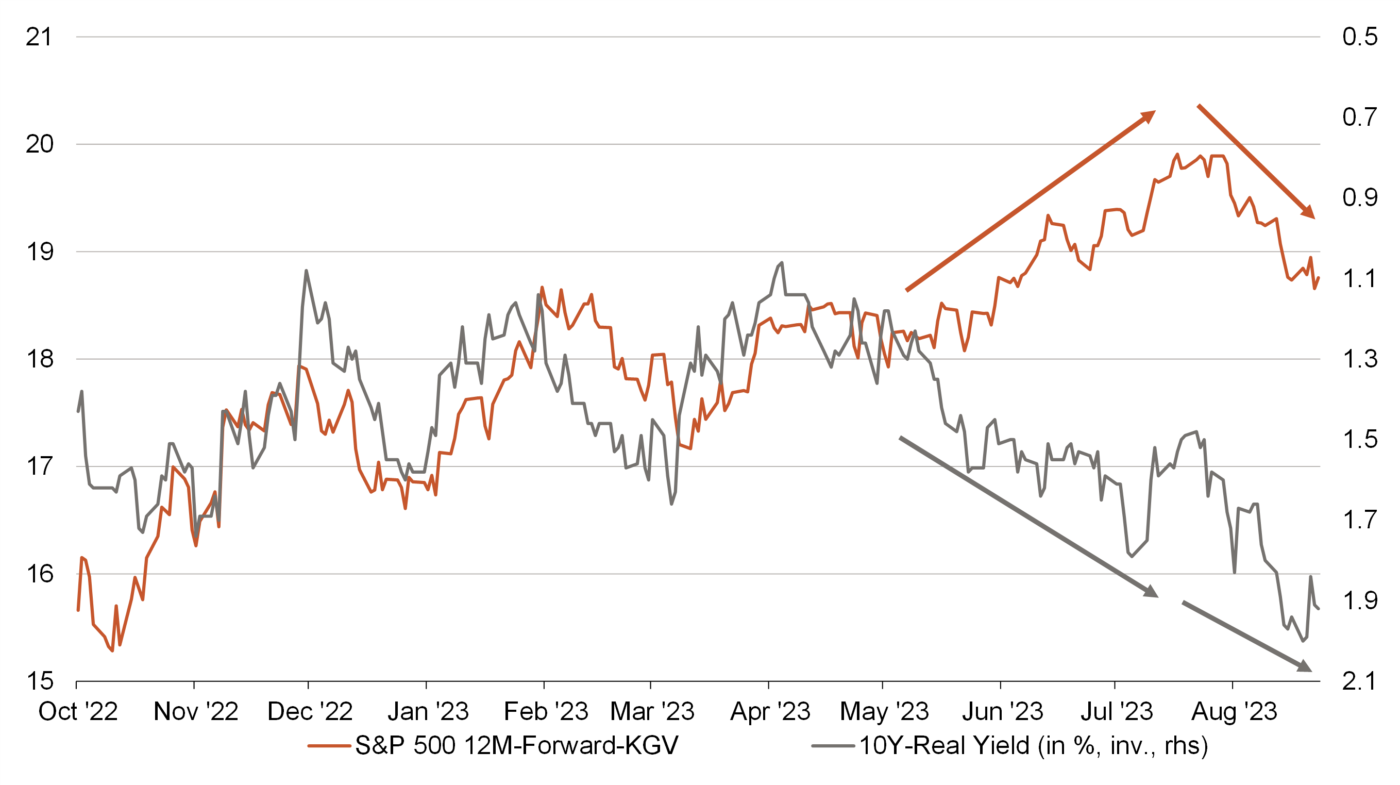 Normally, equities exhibit a negative correlation to real yields. The higher the interest rate, the more future profits are discounted.
From May of this year, this correlation broke down and valuations and thus equities rose despite ever higher real interest rates.
Since August, the equity markets have returned to reality and have begun to price out this exaggerated valuation premium.