Current market commentary
Recently, stock markets have fallen further, especially in the US. In contrast to the year so far, however, safe government bonds have risen at the same time and were thus able to cushion the sell-off in multi-asset portfolios. The reason for the changed correlation pattern is the increase in recession concerns, while inflation expectations have fallen slightly. Weak economic data, the first signs of a cooling US labour market and disappointing quarterly results from US retailers citing concerns of lower demand for non-basic consumer goods and lower profit margins make a stronger economic slowdown more likely. What happens next depends mainly on China and Russia. A reopening of China's economy or an end to Putin's war would lead to fewer economic concerns and, via easing supply bottlenecks or energy/food prices, probably also fewer inflation concerns.

Short-term outlook
This week, the World Economic Forum (22-26 May) is taking place in Davos. The war in Ukraine, the energy shock and its economic consequences, the global pandemic and climate change are likely to be major topics of discussion. On 30/31 May there will also be a special EU summit on the energy crisis and the war in Ukraine. The US stock markets are closed on 30 May (Memorial Day). On Tuesday, the preliminary industrial purchasing managers' indices (May) for Europe and the US are expected to provide information on business sentiment as well as the risk of recession. On Wednesday, new orders for durable goods (Apr.) and the Fed minutes (May) will be released. This will be followed on Friday by US household in-come and spending (Apr.). Next week, the preliminary May inflation figures as well as the service PMIs (May) for the Eurozone and the labour market data (May), consumer confidence (May) and ISM indices (May) for the US will be released.
Government bonds recently again with better diversification effect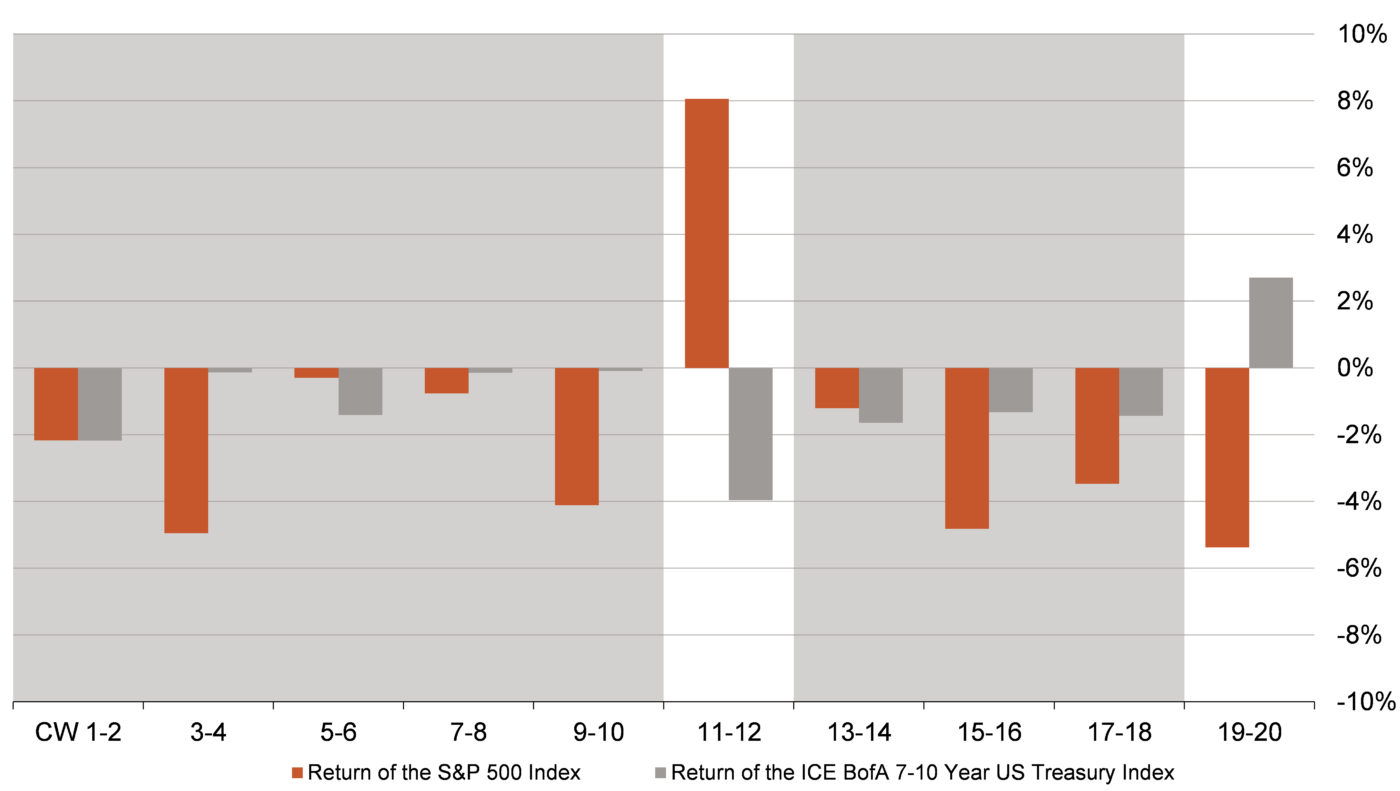 Since the beginning of the year and until recently, a stronger correlation between equities and safe government bonds was observed. Periods with the same direction are shaded grey in the chart.
With rising inflation expectations, mar-ket participants expected a more restrictive US central bank, which weighed on both asset classes.
Recently, however, more and more economic risks have come into focus, so government bonds viewed as safe ha-vens were in greater demand again.