Current market commentary
Economic risks have increased and recent macro data have tended to disappoint. As a result, yields on safe haven government bonds have fallen and yield curves have steepened. Gold is close to its record high in USD terms. The market is increasingly pricing in a recession. Only in equities does it not seem to be the case at first glance. The major indices are near their YTD highs, driven by positive seasonality, an increase in liquidity and buying by systematic strategies, thanks to falling volatility and a negative equity-bond correlation. Under the surface, however, defensive and quality companies are clearly outperforming cyclicals - a sign that equity investors are also becoming more cautious. Moreover, liquidity is likely to decline again from summer onwards, should an agreement be reached on the US debt ceiling. We are therefore not chasing the rally, but remain balanced.
Short-term outlook
The Q1 reporting season in Europe and the US will pick up significantly in the com-ing days. 87% of the companies in the S&P 500 by market capitalisation will publish their Q1 results by 5 May. On the other hand, all remains quiet on the central bank side in April. On the economic front, things are getting exciting. On Wednesday, the inflation data (Mar.) for the US and the Fed minutes (Mar.) will be published. Eurozone industrial production data (Feb.), US producer prices (Mar.) and Chinese import data (Mar.) will be released on Thursday. Retail sales (Mar.), consumer confidence (Uni Michigan, Mar.) and US industrial production data (Mar.) will follow on Friday. In the following week, the ZEW index (Apr.), the preliminary purchasing managers' indices (Apr.) for the US and Europe and the US housing market data (Mar.) will be published.
Increased recession worries, falling yields & steeper yield curves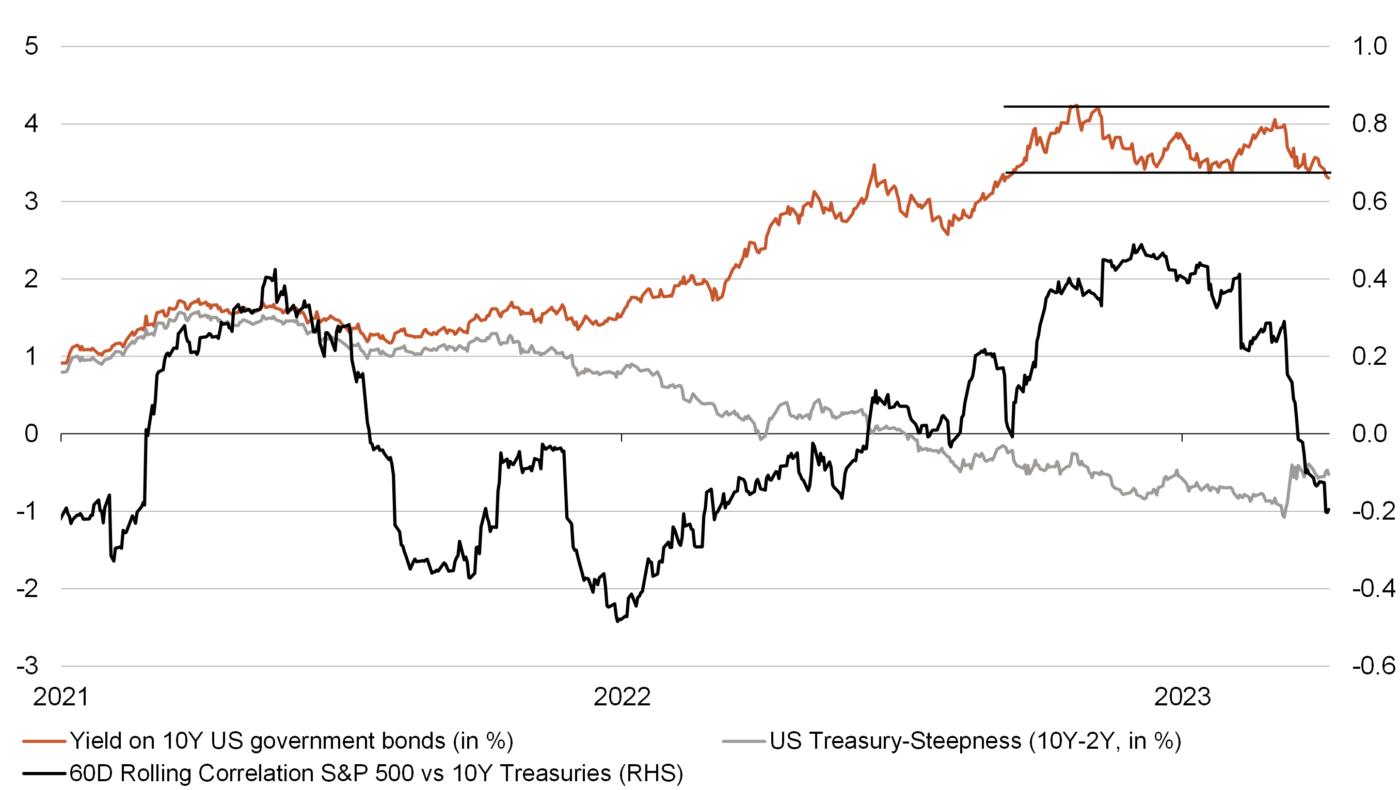 With the downward breakout of the 10-year Treasury yield, the "higher for longer" narrative seems to have been forgotten. The market has moved from inflation to growth concerns. As a result, the correlation between equities and bonds has turned negative (at least temporarily) again.
As we expected, the US yield curve has recently recorded a significant decline in inversion. The market is increasingly
pricing in a recession and thus prompt interest rate cuts by the Fed.