Current market commentary
US equities in particular recovered recently, driven by rebalancing flows (pension funds sell bonds and buy equities to return to target weights in their asset allocation) and share buyback programmes. In addition, more corporate insiders have been buying shares recently. Lower volatility and better price momentum should also increasingly drive systematic investment strategies back into equities. In the short term, the markets could stabilise further. In the medium term, however, the decisive factor remains to be the persistence of inflation and how robust consumers really are. The Fed's future monetary policy will then depend on this. Over the next few months, however, economic data and thus also earnings estimates are likely to come down, if the lockdowns in China and continued high inflation rates leave their mark. Accordingly, we would not chase the current rally through increasing our equity exposure. We retain a balanced exposure and remain a neutral equity quota.
Short-term outlook
In the coming days, with inflation remaining high, all eyes will be on the central banks. The ECB will hold its monthly meeting on 9 June, the Bank of England on 15 June and the Fed on 16 June. The market expects a rate hike of 25 basis points at the Bank of England and 50 basis points at the Fed. On 16-17 June, the Eurozone finance ministers will meet. On Tuesday, new orders (Apr.) for Germany and the US trade balance (Apr.) will be released. German industrial production data (Apr.) will be released on Wednesday. On Friday, inflation data (May) for China and the US will follow, as well as industrial production data (Apr.) for Italy and US consumer confidence (Jun.). In the following week, the ZEW index (Jun.) for Germany as well as retail sales (May), various sentiment indicators (May, Jun.) and industrial production data (May) for the USA will be published.
Systematic investment strategies supportive in the short term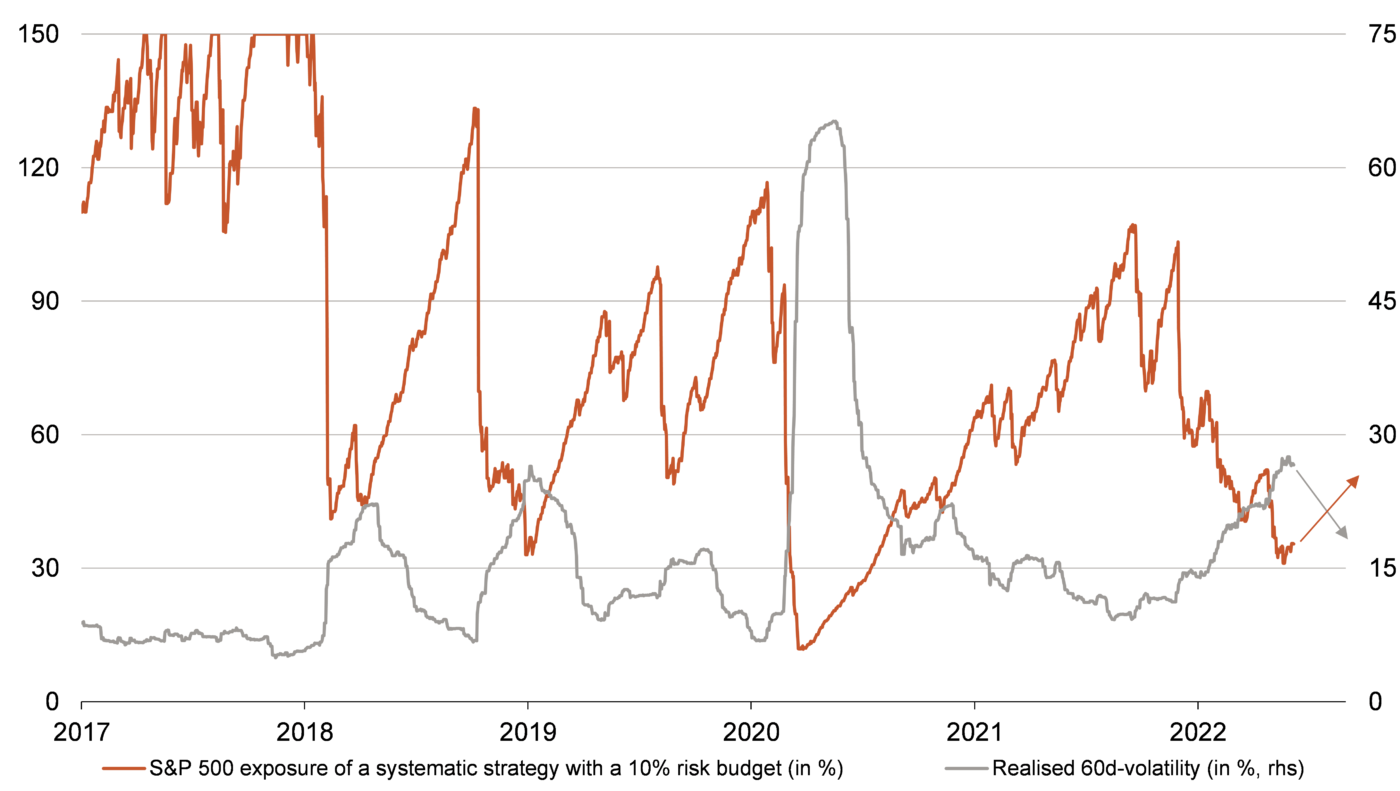 Risk-based systematic investment strategies currently have a historically low equity allocation due to the high volatility of the last weeks & months.
While this limits the drop in equity markets on bad news from this side, these strategies are likely to increase demand for equities again and support prices
when volatility falls.
However, as these are non-fundamental investors and risks remain high, we do not chase rising prices.