Current market commentary
After the stock markets had ignored the increased interest rates for a long time, US equities in particular recently experienced a correction. Last Thursday, the S&P 500 fell below the important 200-day moving average for the first time since mid-January, weighed down by increasing problems in the US banking sector and in the cryptocurrency space. This could be a first sign that the downstream effects of the restrictive monetary policy are slowly showing up in the real economy. The fundamental question remains how the Fed will react in the coming months to the ambivalent picture of a hitherto robust US labour market coupled with a weakening housing market and continued high inflation rates. The market is pricing two more Fed rate hikes until summer, before the first rate cuts are expected in the winter. For the time being, we remain broadly and diversifiedly positioned, with a slight underweight in equities. We think that there should be even better opportunities this year to ramp up risk assets again.
Short-term outlook
The next two weeks will be intriguing in terms of monetary policy. The ECB meets on 16 March, the Fed on 22 March and the BoE on 23 March. The market expects the biggest rate hike to come from the ECB with a 50 basis points (bp) increase. It is more likely to be 25 than 50bp for the Fed, while 25bp looks the most likely for the BoE. This Tuesday, labour market data for the UK (Jan.), industrial production (Jan.) for Italy and US inflation data (Feb.) are due. On Wednesday, eurozone and Chinese industrial production (Feb.), Chinese retail sales (Feb.), US purchase price index (Feb.), the Empire State index (Feb.) and US retail sales (Feb.) will be released. Meanwhile, US housing market data (Feb.) and the Philadelphia Fed Index (Feb.) will follow on Thursday, and US industrial production and consumer confidence (Feb.) will be re-leased on Friday. The following week will see the ZEW index (Mar.), UK inflation data (Feb.) and Eurozone consumer confidence (Mar.).
Fundamentally, the air is getting thinner for US equities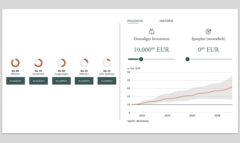 The key interest rate priced in for December has risen significantly for the Fed and the ECB since the end of January. Recently, however, markets priced out a large part of these rate hikes because of the crisis at regional US banks.
Whether this really marks a turnaround in monetary policy remains questionable, because the inflation problem does not seem to be solved yet. The incidents in the banking sector show, however, that higher rates are not without consequences. Accordingly, we have recently positioned ourselves more cautiously.