Current market commentary
Equities have recently shown a volatile sideways trend. However, under the surface, two segments have declined more significantly. Cyclical stocks were weighed down by concerns about the economy due to the Omicron variant, while unprofitable tech companies came under pressure due to interest rate hike fears. Against this backdrop, the US yield curve also flattened considerably. Short-term yields rose as markets are now pricing in more Fed rate hikes, and long-term yields fell due to the risk-off environment. The flattening was exacerbated by hedge funds that had bet heavily on a steeper curve and now had to reduce this position. The latest environment could be a precursor to 2022. The investment consensus is divided. On one side are the optimists who believe in double-digit equity returns without much disruptive fire. On the other side are the pessimists who expect a sharper correction due to tighter Fed policy. In our opinion, the truth lies in the middle.

Short-term outlook
Central banks are likely to be in focus this week. The Fed will hold its monthly meeting on 15 December, the ECB and the Bank of England on 16 December and the Bank of Japan on 17 December. An interest rate hike by one of the central banks is unlikely - only the BoE has a certain chance. However, the tone of central banks is likely to become more restrictive as inflation remains high. An EU summit will also take place on 16 December. On the agenda are COVID-19, crisis management, energy prices, security and migration. This Tuesday, EUR industrial production data (Oct.) and US producer prices (Nov.) will be released. Chinese industrial production data (Nov.), UK consumer prices (Nov.) and US retail sales (Nov.) will be released on Wednesday. Preliminary purchasing managers' indices for Europe and the US (Dec.) and US industrial production data (Nov.) will follow on Thursday. The Ifo index will be published on Friday.
Market increasingly pricing in Fed rate hikes next year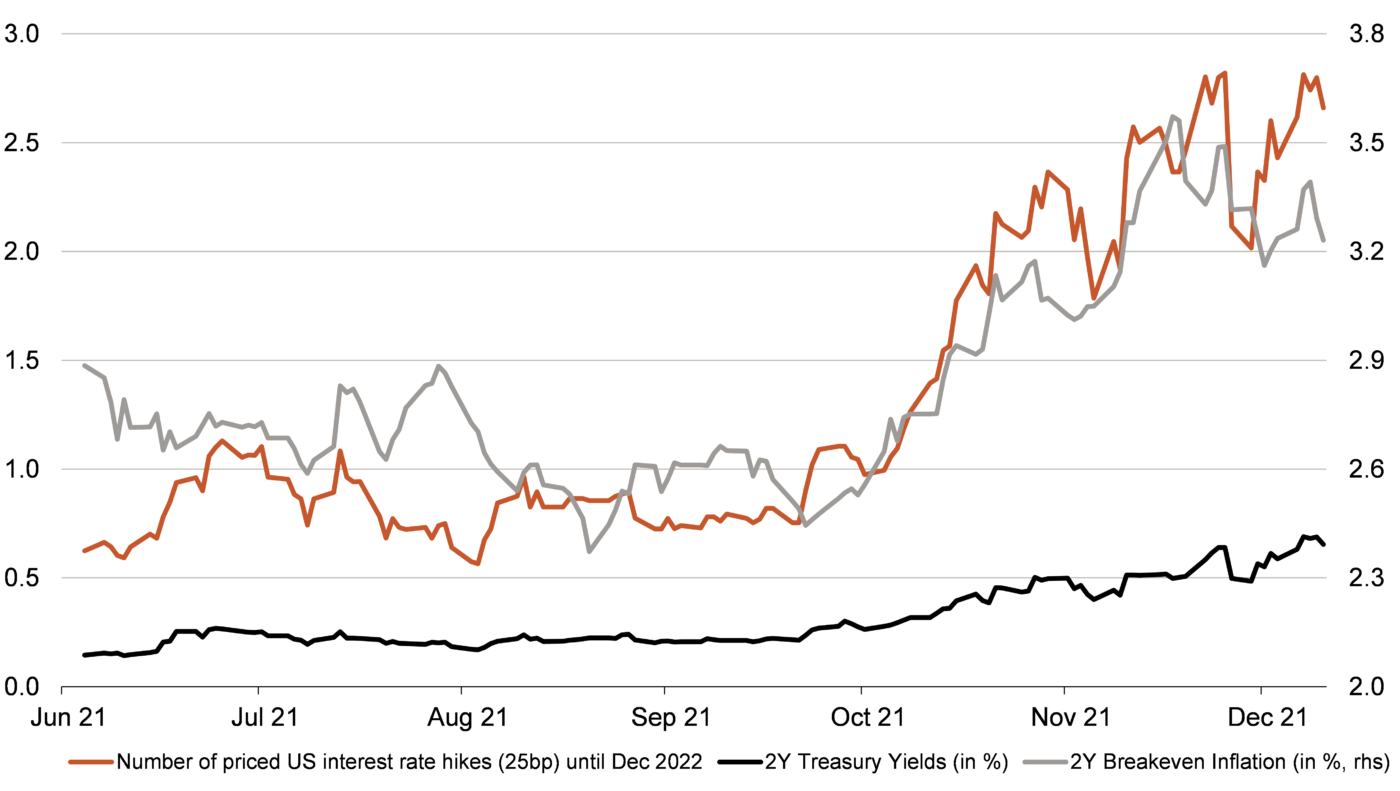 Until October, markets had only priced in one Fed rate hike for 2022.
Positive economic surprises and high inflation in the US, higher inflation expectations and the Fed's understanding that inflation is probably not so tempoary after all have led to a rethink.
In the meantime, the market assumes that there will be almost three interest rate hikes next year. Accordingly, short-dated US bond yields have recently risen significantly. The US dollar has appre-ciated.