Current market commentary
The ECB and Fed were more hawkish than expected at their meetings last week, signalling further strong rate hikes - especially ECB President Lagarde. As a result, interest rates rose and risk assets, especially tech stocks, fell sharply. The situation is somewhat reminiscent of the summer, when the market had increasingly priced out interest rate hikes before the central banks made it clear that fighting inflation remains a priority and thus interest rates are likely to remain elevated for longer. Whether the equity markets fall more sharply now depends on two factors. Will corporate earnings fall more than most investors expect anyway? The Q4 reporting season starting in January should provide important insights. Another key factor is whether unemployment rises strongly and quickly. If so, then demand for equities is likely to decline significantly due to (US) pension provision.
Short-term outlook
After a big week for the central banks, the remainder of the year is likely to be quieter due to Christmas. At the beginning of 2023, however, things will get more exciting: on 1 January, Croatia will join the Euro; from 16 to 20 January the Economic Forum will take place in Davos; and on 22 January the Year of the Rabbit will begin in China. Housing data (November) for the US are due tomorrow, and US consumer confidence (Conference Board, December) on Wednesday. Weekly initial jobless claims for the US follow on Thursday. On Friday, inflation rates (November) for Japan, US household income and spending (November) and US durable goods orders (November) will be released. Between years, the Chicago Purchasing Managers' Index (PMI, December) and the PMIs for China (December) will be announced. The first week of 2023 will be busier, with some inflation rates, US labour market data and PMIs for Europe and the US due to be published.
More attractive prospects for multi-asset investors in the new year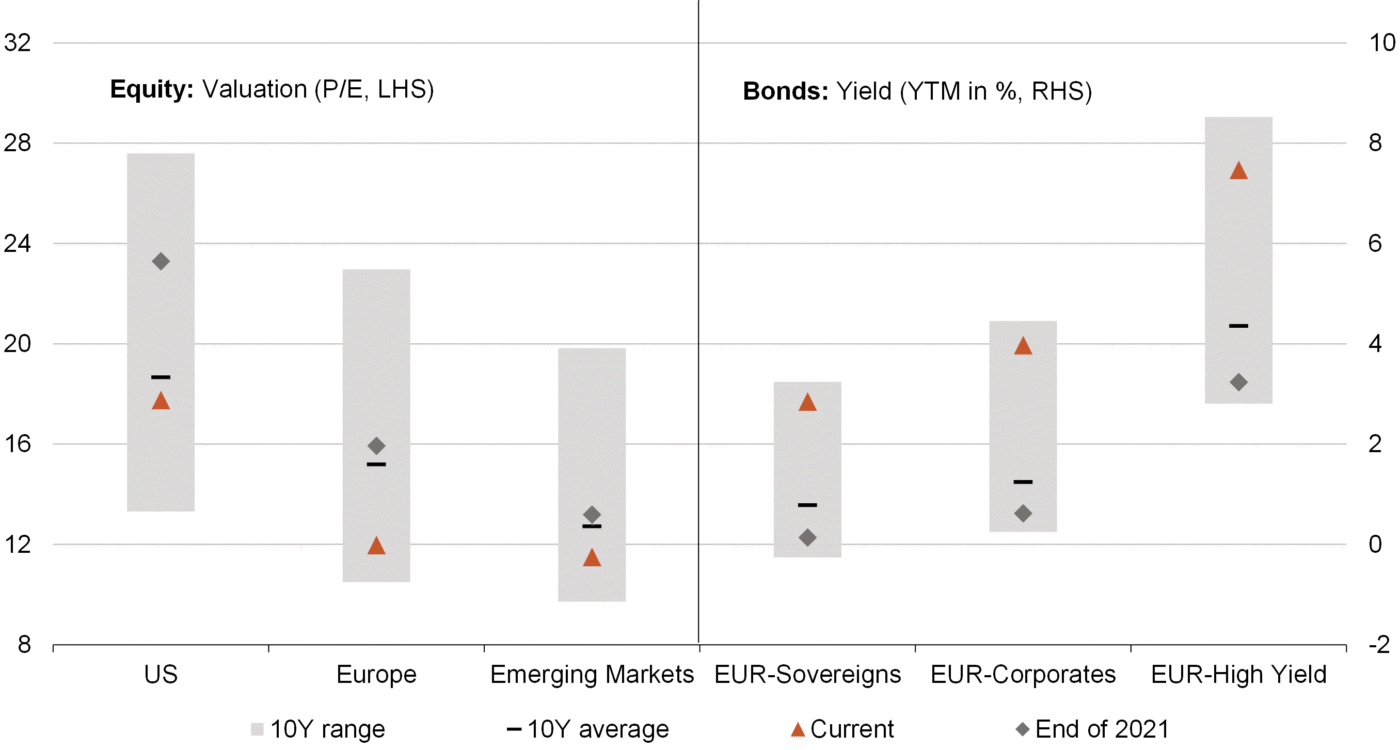 2022 was a year to forget for multi-asset investors. Equities and bonds lost significant value.
The good news, however, is that the starting position, based on valuation metrics, has rarely been so favourable or diversified euro investors.
The valuation of European and emerging market equities is very attractive on a 10-year comparison. Euro bonds offer yields that we have rarely seen in the last
10 years. We therefore expect 2023 to be a better multi-asset year despite the recession.