Current market commentary
The rally in the financial markets has continued over the last two weeks. The DAX could have had its best start to the year since the 1970s. Better-than-feared corporate results, positive macro surprises in Europe and hopes for China were helpfull. The latter also supported commodities, with the price of crude oil approaching the USD 90 mark again. We now view the short-term upside potential for European equities as limited, mainly because systematic strategies are now much more exposed. However, the fact that there have been equity inflows again in Europe over the last two weeks after 48 consecutive weeks of outflows should be supportive in the medium term – an indication that fundamental investors now view Europe more positively again. Further development of the markets is likely to be shaped by the major central bank meetings. The still-robust labour market and rising commodity prices could put a damper on the emerged rate cut hopes.
Short-term outlook
In addition to the Q4 reporting season, which is mostly over by the end of February, investors are likely to look forward to the US Federal Reserve's (Fed) central bank meeting on 1 February and the European Central bank (ECB) and Bank of England meetings on 2 February. The EU-Ukraine summit will also take place on 3 February. On Tuesday, Q4 growth figures for Europe, inflation figures (Jan.) for Germany and France, Purchasing Managers' Indices (PMI, Jan) for China and US Consumer Confidence (Jan) are due. Manufacturing PMIs (Jan) for Europe and the US and German retail sales (Dec) will be released on Wednesday. The service PMIs (Jan.) for Europe and the US as well as the US labour market data (Jan.) will follow on Friday. In the following week, German industrial production data (Dec.) and factory orders (Dec.) will be published.
The DAX showed itself from its best side in January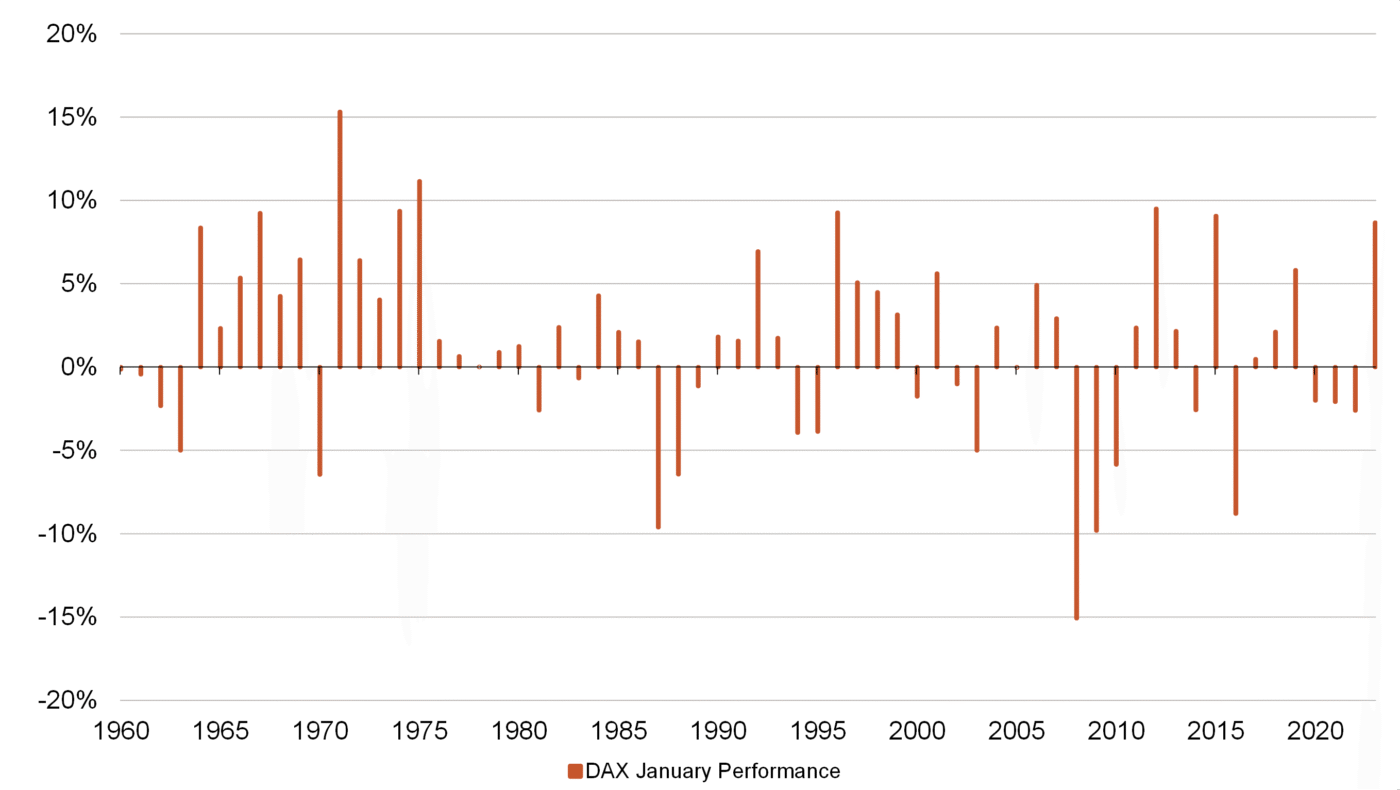 Strong pessimism, the absence of a gas shortage and China's opening up gave the DAX wings in January.
Should the DAX rise by another 0,6% by the end of the month, it would be the best January since 1975. Is that a good omen? If the DAX gained more than 8% in January, which has been the case nine times since 1960, it gained a median of 8.7% from February to the end of the year. However, the range was from -7.5% (1971) to 38.2% (1967). When start to the year was this good, the DAX has never lost on a calendar year basis.